Act

on the stage of The Georgian Theatre Royal

Direct

productions

Design

for productions

Build

stage sets

Make

costumes

Organise

the props

Manage

the stage crew

Help

back-stage

Meet

new friends
RADS meets on the 2nd Monday of each month (except August) at 7:30pm in their own club and rehearsal rooms at 6 - 8 Castle Hill, Richmond, North Yorkshire


We are always looking for new members, particularly younger members over the age of 16. No previous experience is needed but we do offer an enjoyable and very rewarding pastime! Please contact the membership secretary if you are interested in joining RADS, or fill in and submit the form below:

£18 Full Membership - 12 months
£5 Students
£7.50 Friends
£12 Joining Fee for Full Members only







RADS is a long-standing member of The National Operatic and Dramatic Association which is the major representative body for the amateur theatre. N.O.D.A. aims to give a shared voice to the amateur sector and provides advice and support to societies such as ours in our endeavours to achieve high standards.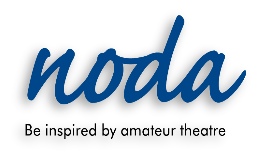 Click logo for link to RADS Richmond Online Community page
RADS Friends Scheme • Why not join RADS? • More information
If you would like details of the RADS Friends Scheme, or if you are thinking of joining RADS, please contact the Friends' & Membership Secretary, Gregan Davis - Email Gregan . We would love to hear from you!